Mother's Day Gift Ideas
Let's face it – Moms don't get enough credit for all they do. I mean, they cared for us with love from day one, literally. They taught us simple tasks and big lessons and they sculpted our characters and helped us get ready to face the real world. Mother's Day is a time where we can celebrate and appreciate Mom for everything that she's done for us. It's important that we show her how much she truly means to us by getting her something special. What I'm really trying to say: the last-minute Happy Mother's Day poem you wrote last year probably won't cut it again this year!
It's no secret that Moms love great deals and we have plenty of those here at Memolink. The best part about shopping through Memolink for your Mother's Day gifts is that you will find awesome deals and coupons and also earn points towards cash back.  Read on for a couple of Mother's Day gift ideas from our Mother's Day Shopping Guide to get you started this year and don't forget to visit our guide for more coupons & deals:

A Mother's Love Photo Book
Price: As low as $12.99
Personalize a photo book for Mom filled with your favorite memories with Mixbook. Starting as low as $12.99, A Mother's Love is part of Mixbook's Family Photo Books Collection and uses high-quality, heavy-weight papers that are ethically sourced from sustainable forests. You can earn up to 528 points per dollar as a new customer and up to 240 points per dollar as an existing customer by shopping through Memolink.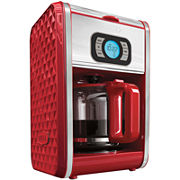 Bella Diamonds Collection 12-Cup Coffee Maker
Price: $39.99 sale ($70 original)
This 12-cup coffee maker from JCPenney comes in two fun colors, red and turquoise, and will be sure to add the right amount of style to Mom's kitchen. Right now, this item is running an awesome sale at 42% off its original price and you can earn 48 points per dollar by clicking through our Mother's Day Shopping Guide.
T-Mobile Family Plan
Price: 4 lines/$100
Earn up to 80,000 Memolink points per line of activated wireless service at T-Mobile. Purchase a family plan so Mom can keep in touch with everyone and get four phone lines with unlimited talk, text, and data plus 10GB of 4G LTE data per month.
Spa Package
Price: Determined by Location
Give Mom a break by purchasing a spa package from a local spa on Living Social. There are many spas offering discounts on massages, aromatherapy, facials, manicures, and more. Just head over to Living Social and enter your zip code to find the deals in your area.
Mother's Day Assortment of Chocolates
Price: $19.50
If your Mom has a sweet tooth, you know for sure that she will love a box of delicious gourmet chocolates from See's Candies. With aged milk and dark chocolates, molasses chips and butterscotch squares, we can't guarantee that Mom will let you have a taste but at 72 points per dollar you will be a few steps closer to the sweetness of cash back.
Pretty Please Bouquet
Price: Starting at $29.99
The most classic Mother's Day gift is a bouquet of fresh flowers and Teleflora has a family of neighborhood florists that will deliver the flowers right to Mom's front door. Standard bouquets start at just $29.99 but, by earning 112 points per dollar, it can't hurt to add mylar balloons, stuffed animals, and chocolates too.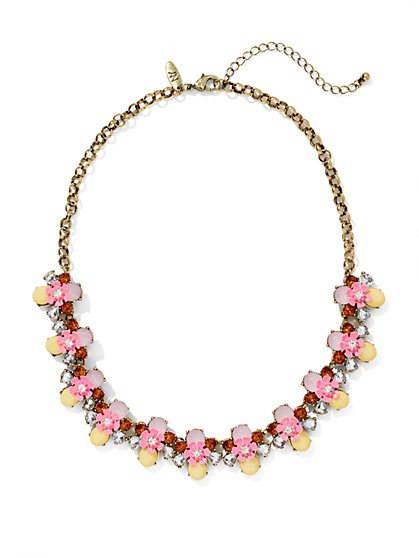 Floral Collar Necklace
Price: $13.47 sale ($26.95 original)
This gleaming pink necklace from New York & Company is on sale at 50% off – what a great deal! Along with other necklaces also on sale, Mom will appreciate the savings and the sparkle. Earn 48 points per dollar at New York and Company.
Us Weekly Magazine Subscription
Price: $33.54 for 26 issues/weekly (was $129.74)
Us Weekly will keep Mom up-to-date with everything that's happening in Hollywood–the good, the bad, and the embarrassing. Also, by ordering your subscription through Magazines.com you can earn 416 points per dollar – that's almost 14,000 points for subscribing Mom to 26 issues of Us Weekly through Memolink!
Cup of Cheer Fruit Bouquet
Price: $54.99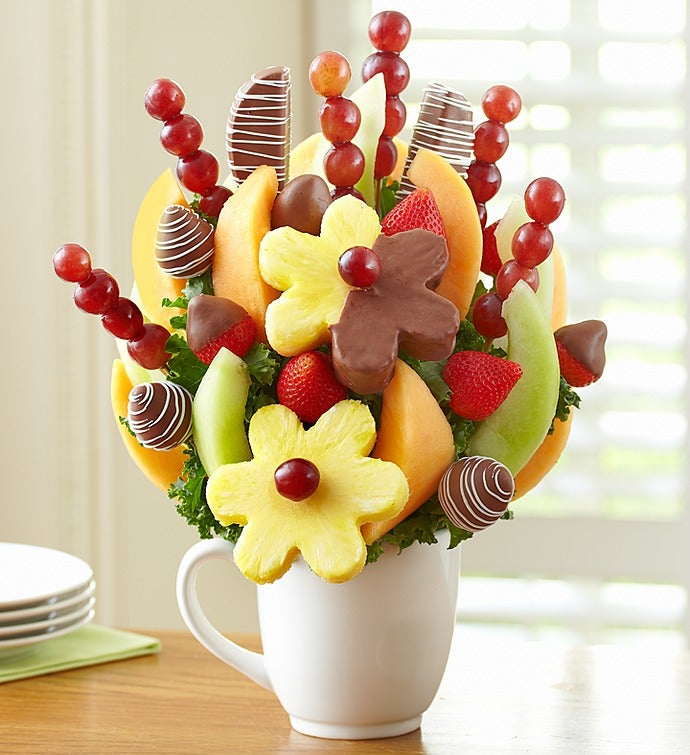 Here's something a little bit more unique than flowers & chocolates – a bouquet of flowers created out of fresh fruit dipped in chocolate. There's a bonus too! When Mom is done eating the fruit, she can use the mug the bouquet came in for her morning coffee. Purchase this fruit bouquet at FruitBouquets.com and earn 80 points per dollar.
No matter what you decide to get Mom this Mother's Day, make sure that it's something that shows how much you love and care about her. We created our Mother's Day Shopping Guide to help you along the way. Earning points through Memolink while shopping for Mom is an added bonus that everyone can appreciate. Check out our guide today!